Are you ready for another week of Hoo Are You!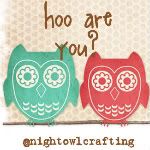 1. Do you like to listen to Christmas music?
Yep. Sometimes find myself turning on the Christmas music in July...especially when overly hot in Texas!
2. Are you one of those people who get all their shopping done early, or do you do most of it in December?
Well, I TRY and get it done throughout the year, but with two littles in the house, it's not always possible. Almost done this year though!
3. Do you set a budget on how much you spend on each person?
Sort of...Nothing concrete, but we do try and stay within a certain amount
4. Do you send out Christmas cards?
Absolutely! And I LOVE to get them in return as well!
5. Do you enjoy this holiday season or does it stress you out?
A little of both I think. Sometimes I forget the reason for the season and that's when I get stressed, but if I stop and take the time to remember why we celebrate and who we're celebrating, I regain my sense of peace.