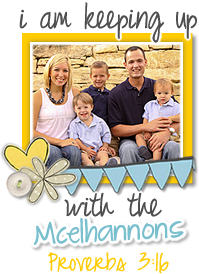 Today's post is really just a little rambling from someone who really rarely posts to my blog. Something has been on my heart though lately and I wanted to share it with the blog-o-sphere. I guess I should say someone(s), rather than something. That someone(s) are my dear friend Misty McElhannon and her husband Justin (and their three gorgeous, precious boys!). You may notice a new button on my blog here which will link you to Misty's blog and their story. Let me tell you a little bit about them and how I know them and how God is using them in a mighty mighty way in not only my life but the lives of many many people, and then I'll tell you why (other than the obvious!) this precious family has been on my heart...
I met Misty through the MOPS organization at Boerne First Baptist Church about 2 years ago. She was in charge of "crafts" at the time and I had a couple of boxes of stuff I'd cleared out of my "studio" that I was donating to the group for us to use in our meetings. In that very brief encounter with her, I noticed something special about her. She seemed to glow with energy, love and excitement and I knew I wanted to be her friend.
Fast forward about 6 months and I heard about a book club that Misty was starting up (not part of MOPS but mostly MOPS members) and having recently stopped going to another book club, I was excited about the idea of joining another, especially one made up of mothers mostly my own age with kids mostly my kids age. Let me preface this by saying that as a rule I'm a very SHY person. I'm an introvert by personality although an extrovert by profession. I know, makes no sense, but put me on a stage and you'll understand! I can speak, act, sing, in front of hundreds with no problem but don't make friends easily or do the "small talk" girlfriend thing very well. As a rule I'm not a very social person, so joining this group of women was a real stretch for me. But two things drew me to doing so. The first was Misty. I really wanted to get to know her better. The second was the knowledge that I needed friends. We (my husband and I) had moved to Boerne a couple of years prior and I had become a stay-at-home mom in the process, but I hadn't made any real friends and didn't do much outside the house. So, I took the risk and went to that first book club meeting... And I've not looked back since! Those ladies are my best friends, my crazy "girls-nite-out" ladies, my one place (other than with my husband) where I can let my hair down and be myself. Now, I'm still no social butterfly and I still struggle with the whole individual relationship thing, but those ladies have really helped me to start to break out of my shell and Misty has been a great big part of that...
Fast forward again several months, to almost one year ago, and once again Misty was a true lifeline for not only me, but my husband and 2 year old daughter... When I went into labor with our second daughter at 35.5 weeks, it was Misty who coordinated meals, took care of helping us get someone to watch Emma when family was unavailable, checked in on me constantly and just basically showed me the love of Christ in so many ways. If it hadn't been for her and the other ladies who showered us with love during those two weeks in the NICU and then the several months where I was at home alone with the girls due to RSV concerns, I think I would have definitely lost my mind!
Misty is a true testament to the love of Christ and is without a doubt one of the strongest Christian women I know. And that's something I usually don't say about younger women and yet, she's 10(!) years my junior!!! And now, after all the trials they have been through together as a couple with family and children and just life in general, Satan has decided to once again attack this sweet couple with a blitz of health problems in her sweet husband Justin.
They are currently at the Cleveland Clinic (in Cleveland, Ohio of course!) where Justin has been seeing various specialists and undergoing more tests than most lab rats and meanwhile their three boys are here in Boerne being loved and cared for by family and friends and missing their mom and dad. Justin has been admitted to the hospital now (his second stay there) and things are not looking good... But we know that GOD is the one in control and that regardless of the plagues Satan may be visiting upon his body, it is ultimately GOD who will care for them.
And now for why, other than the above, this sweet friend is on my heart... Those of you who don't know I have experience in the "worrying about your husband's health" "life or death situation" department.
Many year ago now (10 in fact) my loving husband Michael was diagnosed (thanks to a wonderful family physician!) with testicular cancer. Within a matter of days, our world was turned upside down. We went from two happily married "kids" to two "adults" overnight. We went from no worries, to worried that Mike wouldn't be around for very long. We had to deal with things like wills and health insurance and life insurance and all the "what-ifs" that go along with life-threatening illness. Words like living will, power-of-attorney, long term disability, and home care were tossed at us. We were lost in a sea of confusion and doubt. Fortunately we had the help of family who work in the medical field who helped walk us through both before and after surgery and the radiation that followed.
Thanks be to God, Mike's cancer was caught early and after surgery and radiation, he was declared cancer-free. And 10 years later, he is now passed the point where statistics consider him in the same category as those who've never had cancer. But during the time of his diagnosis, surgery and treatment, we both had the chance to really stop and consider our priorities, to realize that God was first and foremost in our lives and that our marriage was strong enough because of that to withstand the trials that Satan was sending our way. Has that always remained the case? Well, no. Have we had our bad times as well as our good times? Definitely yes. But when I think about my sweet friend and her husband I remember like it was yesterday the worry and heartbreak of knowing the person I loved more than anything in this life was sick and there was nothing I could do to help him. I remember the helpless feeling as they took him in for surgery, the helpless feeling when he was in pain recovering and the helpless feeling when he was dealing with sickness from radiation therapy. And it was only with God's help that I was able to abandon that helplessness and know that while I, as a wife, was helpless to help him, GOD was not. GOD was in control, then as now, and would walk beside us because we asked (begged!) Him to. And so I know, with all confidence, that GOD is also walking hand in hand with Misty and Justin (and the boys) as they deal with this because there is no more faithful example of His love than that family.
So, I'm writing all this, pouring out my heart to you all, asking that you please, please take time to stop whatever you're doing, drop to your knees and pray with abandon for this precious family. Visit Misty's blog and read their story. Consider coming to or donating to the fundraiser pancake supper that has been planned for them on August 10th. Share their story with others you know who will pray and petition the Lord on their behalf. There may not be much I can do for this sweet family other than this, but if I can draft others into the cause of prayer for them, how much stronger that petition will be.
If you have made it all the way to the end of this rambling post, then THANK YOU! And thank you for praying for and supporting this sweet, sweet family, now and in the future...