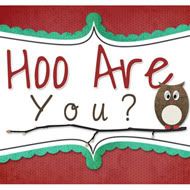 Time for this week's Hoo Are You!... Click the link above to play along!
1.
What is your favorite craft or type of craft and if you are a crafter
how did you get into it?
I do all kinds of crafts, but probably my favorite would be anything to do with papercrafting. I scrapbook, rubber stamp, make cards, etc. I also love to loom knit and recently picked up a dvd tutorial on tatting that I'm hoping to get to one of these days... I think I got the crafting gene from my mom :)
2. What shows have you been watching this summer?
Um, Backyardigans, Max & Ruby, Veggietales... Can you tell I have kids at home during the summer? Other than those I've not really been watching except a few episodes of Eureka, Warehouse 13 and Alphas on Syfy when I've been able to sneak them in.
3. Who does the yard work at your house?
It's a combination. Mowing and trimming is mostly hubby, but landscaping and gardening is me.
4. Are you working on any projects inside the home or outside this week?
Um, am I ever NOT??? This week though we're trying desperately to finish most of the downstairs flooring (we're replacing ALL the carpeting in the house with floating wood laminate). I'm also cooking up a storm for a fundraiser and for a couple of moms in my moms group who've had babies and other things.
5. Do you have to worry about getting ready for back to school?
Yes and no. I have a preschooler, but she's mostly already ready. I need to get her napmat made, but other than that she's ready.