Ok, so I'm a bit late posting last week's Hoo Are You...but I'm still gonna post it! :)
It's time for another round of "Hoo Are You" Tuesday! Click the button to play along...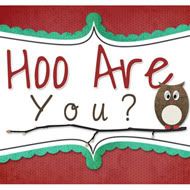 1. Are you married/in a relationship/single? For how long?
Married...for 15 1/2 years to my wonderful, loving hubby Michael
2. What do you do for a living? Do you enjoy it?
I'm a wife and mother primarily, and a homemaker secondarily :)
3. In what state do you live? Where were you born and raised?
I live in Texas and was born in Texas. I spent most of my childhood in Ohio but got back to Texas as quick as I could!
4. Do you have children? If so, how many? If not, do you want them?
Yes, two, ages 2 1/4 and almost 6 months, both girls :)
5. Who is your favorite blogger to follow and why?
I don't think I can pick a favorite...I have so many I love to follow! (yes, it's a cop-out, I know!)