So here are this week's Hoo Are You Tuesday questions and answers... Click the button to play along...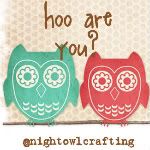 1. Did you make any New Year's Revolutions?
Only one... I resolved not to make any resolutions!
2. What are some goals you have for 2011?
To be a better wife and mother. To lose the baby weight. To clean out the garage and office space so they're usable. To enjoy my babies while they're babies...
3. What is something that you got for Christmas?
Time with my mom. That was the best gift :)
4. Did you see any good movies over the holiday season?
Not at the theater, but I always enjoy watching White Christmas, It's A Wonderful Life, Polar Express and Miracle on 34th Street on TV...
5. Do you do your own taxes or have someone do them for you?
We do our own...